Maintaining the balance between structure and flexibility is one of the biggest challenges that a new school faces. A successful approach is to designate times for a type of work to be done, and allow students to work at their own pace or on a topic of their choosing within that type of work.
An example of a daily schedule
Here's an example of a typical week for Acton Wausau, a Wisconsin microschool for elementary-age students following the Acton model.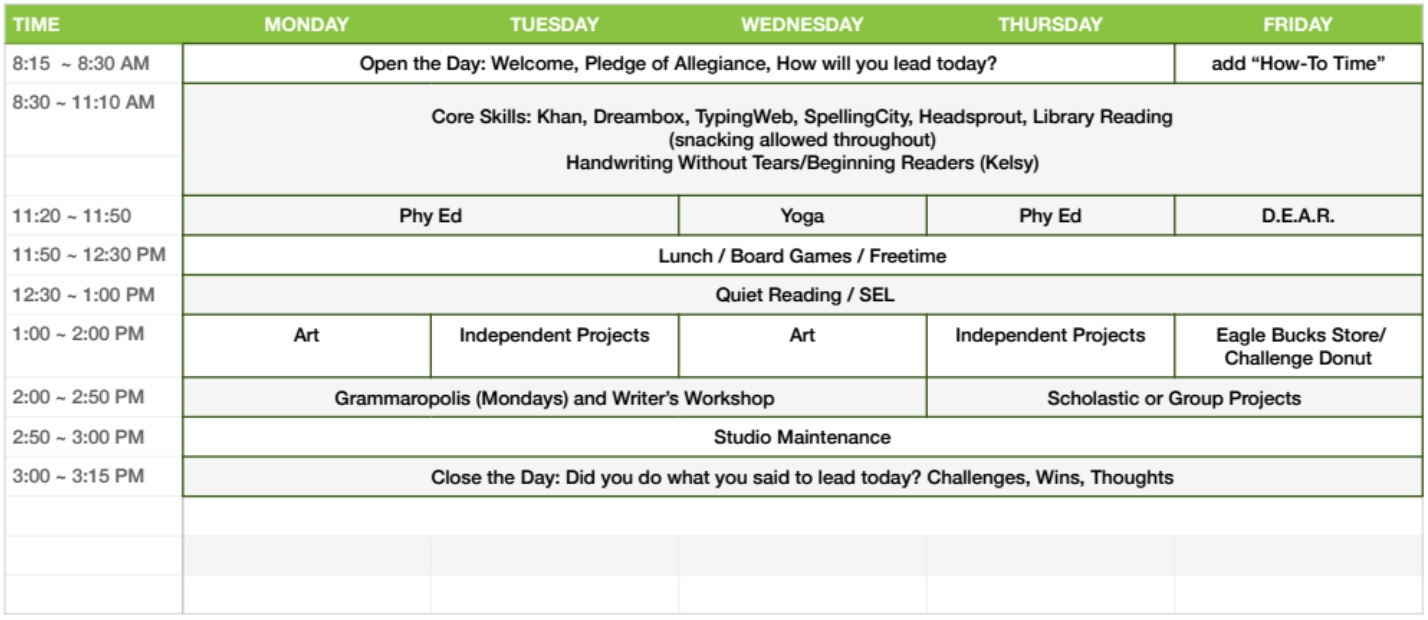 Core skill mastery
As you can see, after the school-wide morning launch, the morning is blocked for core skills. While the environment of the studio is geared toward students working independently on mastering these types of skills during this time, students master the material they're working on at their natural pace. They complete a topic and show mastery of it when they're ready to do so, rather than at a predetermined testing time.
Flexible afternoons
Similarly, quiet reading time immediately follows lunch. While this is time designated for reading, students are free to read books that interest and challenge them, and it doesn't necessarily have to be the same book their classmates are reading. The afternoon schedule can be modified according to the needs of the current quest or any pertinent group work.
Reflection and accountability
Finally, students learn accountability as they close the day. In the Acton model, the students themselves are responsible for studio maintenance, which occurs daily. Every day closes with a school-wide huddle, in which students reflect on their day and critically evaluate what they're doing well and what they could be doing better.
Preparing students for the future
Flexibility inside a loose structure can be an adjustment for students who are familiar with either more rigid or more loose organizational systems. Ultimately, the purpose of education is to prepare young people for their future endeavors, so it is worth the effort of making the adjustment sooner rather than later in their journey.
"All men who have turned out worth anything have had the chief hand in their own education."
– Sir Walter Scott